A few pictures of shooting positions,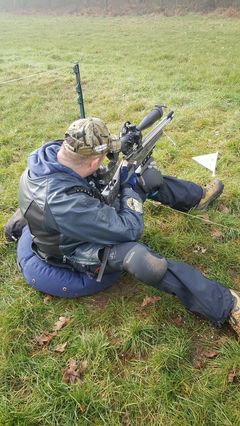 Sitting on Cushion:
This is the main shooting position in field target for 80% of the course.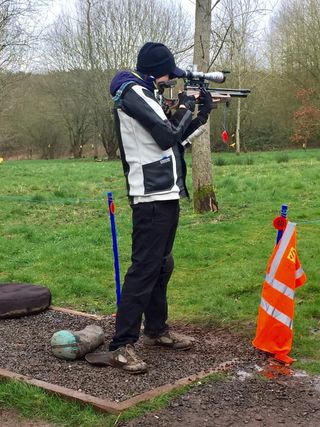 Standing Position:
The most difficult of the positions and equates to 10% of the course.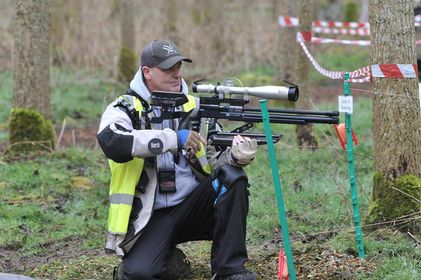 Kneeling Position:
Another difficult position equating to 10% of the course.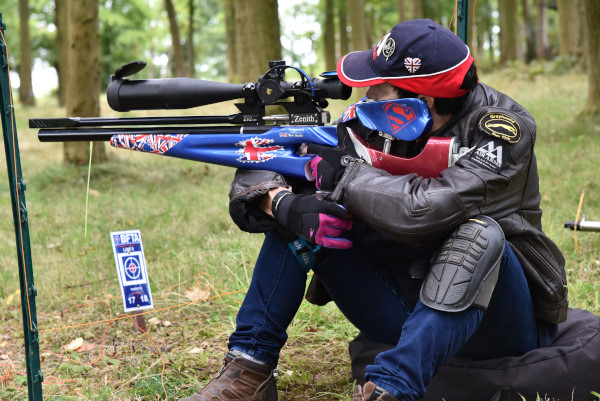 Open Class: 
Open class means that you can, if want to, shoot all the course in the sitting position.
LATEST NEWS :
The new winter league has just started and its open to visitors Entry is £10 – Open time 8am, Safety Briefing 9.45am and Start time 10am.
There will be Monki Badges for the following (For Monki Badges visitors National grades are used and shoot again MFTA grades. For league trophies they will be classed as visitors) : AA, A, B, C, OPEN and PISTON.
Trophies will be awarded for MFTA shooters in AA, A, B, C, Open, Piston and all Visitor will compete against each other.
What is the MFTA 
The Midlands Field Target Association (MFTA) is the regional governing body for Field Target (FT) in the Midlands region of England.
Its aim is to promote the air rifle sport of Field Target shooting within this region. The MFTA achieves this aim by organising regional competition leagues and shoots, establishing rules for those leagues, and offering guidance for the clubs which form the Association. Leagues are shot over the winter period when the national competitions are dormant, and we also offer a slightly more relaxed summer league for those who don't wish to compete nationally. The Association is also a member of the British Field Target Association (BFTA) and organises the region's BFTA Grand Prix Round as well as hosting the BFTA European Championships.
The Association is fully insured and is open to any club within the region. All association member clubs of the regional are also insured.
About MFTA clubs
The region's clubs provide safe and friendly airgun shooting in an outdoor environment for all levels and abilities from novice to expert.
The clubs offer a wide range of opportunities for anyone regardless of age, sex or physical ability. The clubs are predominantly outdoor ranges. Some clubs are quite small, some clubs have much larger memberships. Whatever your skill and comfort level we hope you'll find one of them to suit your interests. A requirement of Association membership is that clubs be insured and follow best practices.