A few pictures of shooting positions,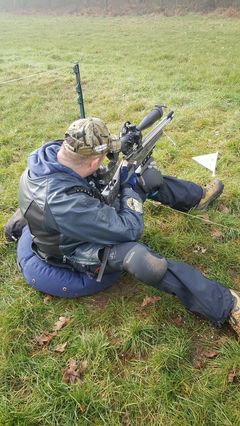 Sitting on Cushion:
This is the main shooting position in field target for 80% of the course.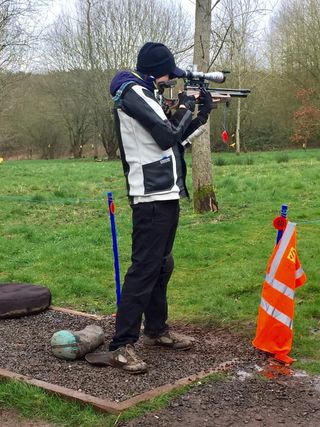 Standing Position:
The most difficult of the positions and is equates to10% of the course.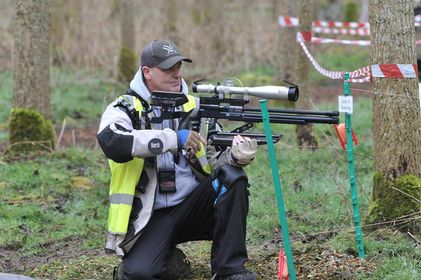 Kneeling Position:
Another difficult position equating to 10% of the course.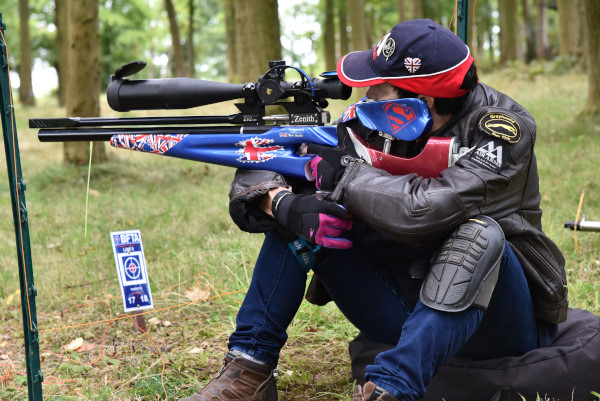 Open Class: 
Open class mean that you can shoot all the course in the sitting position.
LATEST NEWS :
After discussion between Clubs and Committee the revised dates for MFTA W/L are as follows providing lockdown is over :
6/12/20 WL 4 – HARRIERS
13/12/20 WL 6 – FAR COLEY
10/1/21 WL 7 – BLACKBROOK
17/1/21 WL 5 – MILLRIDE
24/1/21 WL 8 – FAR COLEY
7/2/21 WL 9 – BLACKBROOK
21/2/21 WL10 MILLRIDE + AGM
It was decided to do in this order so the venues were evenly spaced hopefully this will work with all competitors as well.
Following on from The PM's address last night and looking at not only the "stay at home" message but the fact that shooting ranges are now specifically mentioned and required to close until December 2nd I'm afraid we have no option but to postpone all winter league fixtures until December when we will review again.
The MFTA respectfully asks that its clubs and member shooters comply with all legislation and close there facilities. This is not a time to seek loop holes that don't exist to try and justify shooting FT. If we all follow the rules we have the best chance of getting back to what we enjoy sooner.
So W/L 4 at Harriers and W/L 5 at Millride have been cancelled and hopefully will be rearranged later in the season.
Of course we will do all we can to open shooting up again asap.
Stay safe and see you soon
What is the MFTA 
The Midlands Field Target Association (MFTA) is the regional governing body for Field Target (FT) in the Midlands region of England.
Its aim is to promote the air rifle sport of Field Target shooting within this region. The MFTA achieves this aim by organising regional competition leagues and shoots, establishing rules for those leagues, and offering guidance for the clubs which form the Association. Leagues are shot over the winter period when the national competitions are dormant, and we also offer a slightly more relaxed summer league for those who don't wish to compete nationally. The Association is also a member of the British Field Target Association (BFTA) and organises the region's BFTA Grand Prix Round as well as hosting the BFTA European Championships.
The Association is fully insured and is open to any club within the region. All association member clubs of the regional are also insured.
About MFTA clubs
The region's clubs provide safe and friendly airgun shooting in an outdoor environment for all levels and abilities from novice to expert.
The clubs offer a wide range of opportunities for anyone regardless of age, sex or physical ability. The clubs are predominantly outdoor ranges. Some clubs are quite small, some clubs have much larger memberships. Whatever your skill and comfort level we hope you'll find one of them to suit your interests. A requirement of Association membership is that clubs be insured and follow best practices.